Who are the people of St. Andrews' U.M.C.?
St. Andrews is a diverse, reconciling, inclusive Christian community of faith.
&nbsp
We welcome to our worship people of all ages, races, classes, genders, sexual orientations, and abilities. Children are especially welcome and child care is available for the youngest.
Our Mission: To Share the Abundant Life

(John 10:10)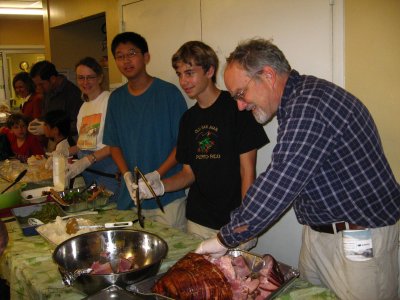 Serving dinner for the Clara-Mateo Alliance
Why I attend St. Andrew's:
"The people are smart, thought-filled, accepting Christians;
the children are wonderful, involved, growing(!) kids;
we seek to reach out to the world in a way that will serve justice;
we join in fellowship that is surrounded by humor and music, the spirit of love;
as a reconciling congregation we accept any and all who will join with us to worship and serve."
"Praise God!"
B.H.